A Turnstile Antenna for 2m ARDF Radio 'O'
by G3ZOI (Updated March 2004)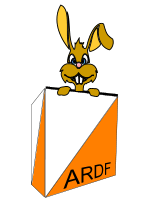 The turnstile lends itself to cheap junk-box construction ,so feel free to experiment!
The suggested construction shown here uses very cheap and easily obtainable components ... an essential criteria if you have to make lots of them.
For an excellent and comprehensive description of the turnstile antenna go to www.cebik.com
This design now uses threaded spacers for attaching the elements to the hub, adopting an idea from Jay Hennigan.

Click on the image below for a PDF construction diagram.
Notes:
Use plastic coated fence wire for the elements, for a more professional job.
In the UK, Wilkingson stores sell plugs for a fraction of the price of the big DIY stores.
Fix M3 solder tags on both ends of the phasing loop and the main feed cable, before assembling into the hub. (6 required)
The two element arms are vertically offset by 1/2", This makes assembling the coax lead and phasing loop much easier.
From practical experience, the coax lead will needs to be at least 12'(3.6m) long.
(Tree branches are not always conveniently placed for support !)