ROX-2T ARDF RECEIVER


Updates
12-2009- New PCB.
Marigally smaller.
Volume control, preset trmmer or 9mm panel mount.
Header pins added, for access to AGC line.
LED battery status.
06-2008 - Modification (for pcb dated 03:07)
Move 5v regulator to suppy SA602 only click here for details.

03-2007 - New PCB.
Narrower board, a PP3 battery will now fit within the enclosure.
The gain and tuning controls are side mounted offering better protection against water penetration.
The fixing holes for the potentiometers do not require precise location in the enclosure.
Some refinement of the RF and IF gain control has made the provision of the 'brute-force' attenuator switch at the front-end unnecessary.

---
2m ARDF Receiver Description

Searching for old IFTs led me to disassemble a rusty AM/FM shower radio and discover an interesting looking 18 pin chip marked 'TA7613AP'.

A quick Google search revealed this chip to be a variant of the TDA1083 which is used in a well known ARDF design by OK2BWN.
The TA7613AP is a one chip AM/FM radio, complete with audio amplifier.

The 'donor' shower radio (shown left) was sold in stores in 2004/5 and the TDA1083 or the many variants has been around for a very long time so ICs should not be too difficult to obtain or salvage.


The ROX-2T uses a novel way of controlling the gain of the SA602 mixer (as found in the Elecraft K1 transceiver) but the SA612 must be directly feed by the stabilized supply voltage to the chip or a through a RFC, to minimize pulling of the VFO.

The resulting ARDF RX is just about as simple as a superhet can get with get two RF devices, and no surface mount components, (apart from the varicap diode.)

The ROX-2T is not suitable for (FM) foxhunting. If the fox stops talking, there will be no modulation to detect! so it is squarely aimed at Radio O using MCW/AM transmissions.





CONSTRUCTION DETAILS
The main winding L1 (3T+3T) must be wound in the same sense for each half i.e. NOT mirrored
Use a piece of 26swg wire 100mm long, folded in half. Tin the ends and centre fold. The easiest way to remove the enamell is to boil it off by holding the wire ends in a solder blob.
INTEGRATED ANTENNA
The 3 element is based on the WB2HOL yagi described elsewhere on this web site. On the version for the ROX2 there is no hairpin loop because there is no requirement to match to a 50ohm feeder. The antenna is directly connected to the front-end of the receiver. The driven element is longer than shown in the WB2HOL yagi.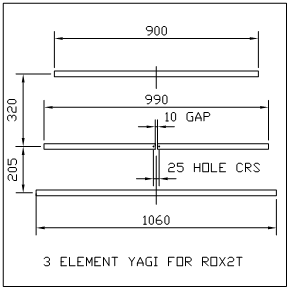 The driven element connection to the ROX2 is the shown below.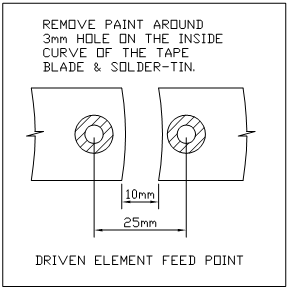 | | |
| --- | --- |
| Yours truely (G3ZOI) starting out at Farley Country Park with a ROX-2T on an experimental 2 element yagi. | < |
PDF DOWNLOADS & FURTHER INFORMATION.
GENERAL


FOR PCB dated 03:07

Related WWW links